The craze for Witcher 3: wild hunt is back again with the release of the Witcher series on Netflix. And the most crucial part of playing a game like this, where you have to fight evil monsters is being prepared to take the hit. And for that purpose, the white wolf has to come shielded in his shining armor.
Now, when you are looking for that Witcher 3 best armor gear, there's no right or wrong. You can make your choice based on your playstyle (defensive, offensive, focusing on signs, etc.), their weight (heavy, medium, light), their stats or merely based on how they look. It's totally up to you! But to help you decide what suits you, we have curated a list of the most fantastic armor sets that you can equip in the game. So, let's check them out.
Best Witcher 3 armor sets for Different Playstyles
Feline –Best Witcher 3 armor for Swordplay
This set is well-suited for swordplay, aggressive and fast moves rather than alchemy or focusing on signs. Feline school armor is light armor, so it doesn't provide as much protection as the other school sets but helps you move fast and dodge.
The set helps you switch between fast and robust attack easily. The 3-piece set bonus means that every time you give a Strong attack, your Fast attack damage will be increased for the next 5 seconds. There is also a 10% increase for each piece that you wear, and up to a massive 60% bonus! Plus, with all six elements, any attacks made against an enemy's rear, will deal 50 percent damage and stun them, though the latter effect costs an Adrenaline point.
The Wolven – Best armor witcher 3 (for monster hunting)
If you want to be an effective monster hunter, then the wolven school gear is the one that you should go for. Now, to find the Grandmaster diagrams for WolvenWolven, make sure you head to the Termes Palace Ruins.
Wolven is also The Witcher 3's best medium armor and isn't made to be focused on one combat style, and yet its relic bonuses will give boosts for oils and bombs, that gives you an edge over monsters. Equip three pieces and have the benefit of applying up to 3 oils to your sword and Equipping all components, will provide you with the ability to throw bombs instantly!
The manticore – Best Witcher 3 Witcher gear for Alchemy
Since there aren't many options for the alchemy-playstyle users that use bombs and potions, this one fits the purpose. Even though you can't procure this earlier in the game, this one is incredible for the ones that are near level 40.
The diagrams for this one is scattered in multiple locations, but the final site that you'd have to reach would be the lake of cleansing. Manticore, just like Wolven, is a medium armor which focuses on alchemy. The first relic bonus will boost your bombs; 3 pieces and your critical chance and damage applies to all bombs. All six parts will render you a beneficial pro for potions and bombs; the maximum number of charges of alchemical items raised by 1.
The ursine – Supremely for defence
If you are a defensive player, then, this heavy ursine grandmaster gear is the one you should look for. With high protection and boosts for quen signs, diagrams for ursine can be found in flovive and a cave near this village where you would have to defeat a giant centipede first and then, the charts would be laying on the corpse of a Witcher in that area.
Now, equip at least three parts, you'll have a chance to activate new quen shield in case your breaks amidst the fight. With all the pieces of the set, including the Ursine swords, the damage you can deal with Quen abilities goes up by 200 percent; perfect for causing back-lash damage with an Explosive Shield and Quen Discharge!
The Griffin – Most adequate for signs
If you focus on playing with Geralt's sign then, this one would complement your playstyle. The griffin gives decent protection and comes in the medium protection range. Plus, it even allows you to turn your Yrden traps into zones that can overcharge your Signs. Notable, isn't it?
Now, to find the blueprints for the griffin, you need to head to the fort Assar, where you'll find three and for the rest, you'll need to visit the Mont crane castle.
The griffin should be your choice since its prime focus is only to boost all signs, especially yrden. So, claim three pieces, and you can cast two signs simultaneously within three seconds without consuming stamina. The full set would increase the size of your yrden traps by 40 percent and would regenerate your energy if you stand inside your yrden trap!
Other top Witcher gears
Wolf school armor
Next in the search for the best gear of Witcher 3, is wolf school assemblage. A cool looking outfit for the ones that don't want to dive into these critical details of the game but enjoy looking at their avatar for a while.
This also resembles with the armor that Eskel wears throughout The Witcher 3, the Wolf armor is favoured by the Witchers of Kaer Morhen. Players that are wanting to make an Adrenaline build will want to grab this set ASAP!
Ofeiri
Ofeiri was introduced in the hearts of stone expansion and had a unique middle- eastern theme that can be hard to find in the game. So, if you are looking for an aesthetic option, this fits right it.
This gear gives light protection, but has a signs-focused build and includes a sword, blinders, swaddle bag and a stock saddle.
Hen gaidth
The red colour version of the old TeshamMutna kit, Hen Gaidth is a massive arsenal with high resistance to bleeding and burning!
The stats of this one is very high, like killing your enemy would restore vitality, and the amount of energy converted will be equal to 1 percent of the max vitality.
Remember you'll get only one shot to nab this set, and can be claimed in "What lies unseen" quest.
Witcher 3 Viper armor
The viper assemblage was again added in the hearts and stone expansion and came under the medium category.
Themed around poisons and snake, this matte black and sleek shield is a must-have. With high resistance to poisoning and elemental damage, and two swords that give you a chance to attack your enemies with poison, the stats are pretty good too.
So, get it during the open Sesame mission in HOS, while talking to the Countess Mignole. You will have to find her lost earring to unlock dialogue options and buy the Viper armor blueprints.
Now, if you need a premium weapon to pair it up with this fantastic viper set, then, we have for you the "of swords and dumplings" quest; which on completion rewards you with a premium sword! Do check it out.
New moon
The new moon assemblage is a four-piece set that has medium weight and a neat medieval look.
It is an excellent option for skill builds focused on critical hits, with unique stats that include bonuses to crit chance and damage and gold. Now, the new moon can be found scattered in different locations like the lighthouse at crane cape, at the top of a tower in royal air force treasure quest, in northeastern velen,  and on the ledge with a chest in Kilkerinn Ruins.
Toussaint
If you are looking for a viable alternative of the ursine armor, then Toussaint is something you should consider wearing.
This is a high-level, heavy and gold-coloured shield perfect for a knight errant and would make you look like a typical medieval knight. It would also give you +450 vitality when you wear each piece and resistance to burning and bleeding.
To claim this, search the Land of a Thousand Fables for the corpse of a knight during the B&W main quest called "Beyond Hill and Dale."
Teshammutna
Teshammutna is one of the coolest assemblages of the Witcher 3; it is pitch black which is based on vampires which comes with a mask!
Now, to go on the critical details, this is a heavy type shield with a top-notch defensive type stat, neat sword look, high resistance to bleeding and burning and restores vitality upon killing enemies.
This chic set is available only during the Blood and Wine quest "La Cage au Fou."
Assasin's gauntlets
This is a lightweight protection type and makes it to this list because assassin's gauntlets provide a 10 percent critical hit chance which is an unparalleled stat boost in gloves.
There's also an increased chance to find herbs when you equip these and can be an efficient choice early in the game.
To find them do a little hunting in the Skellige seas and you're bound to find these gloves. Or, craft them yourselves with leather scraps, hardened leather, and thread.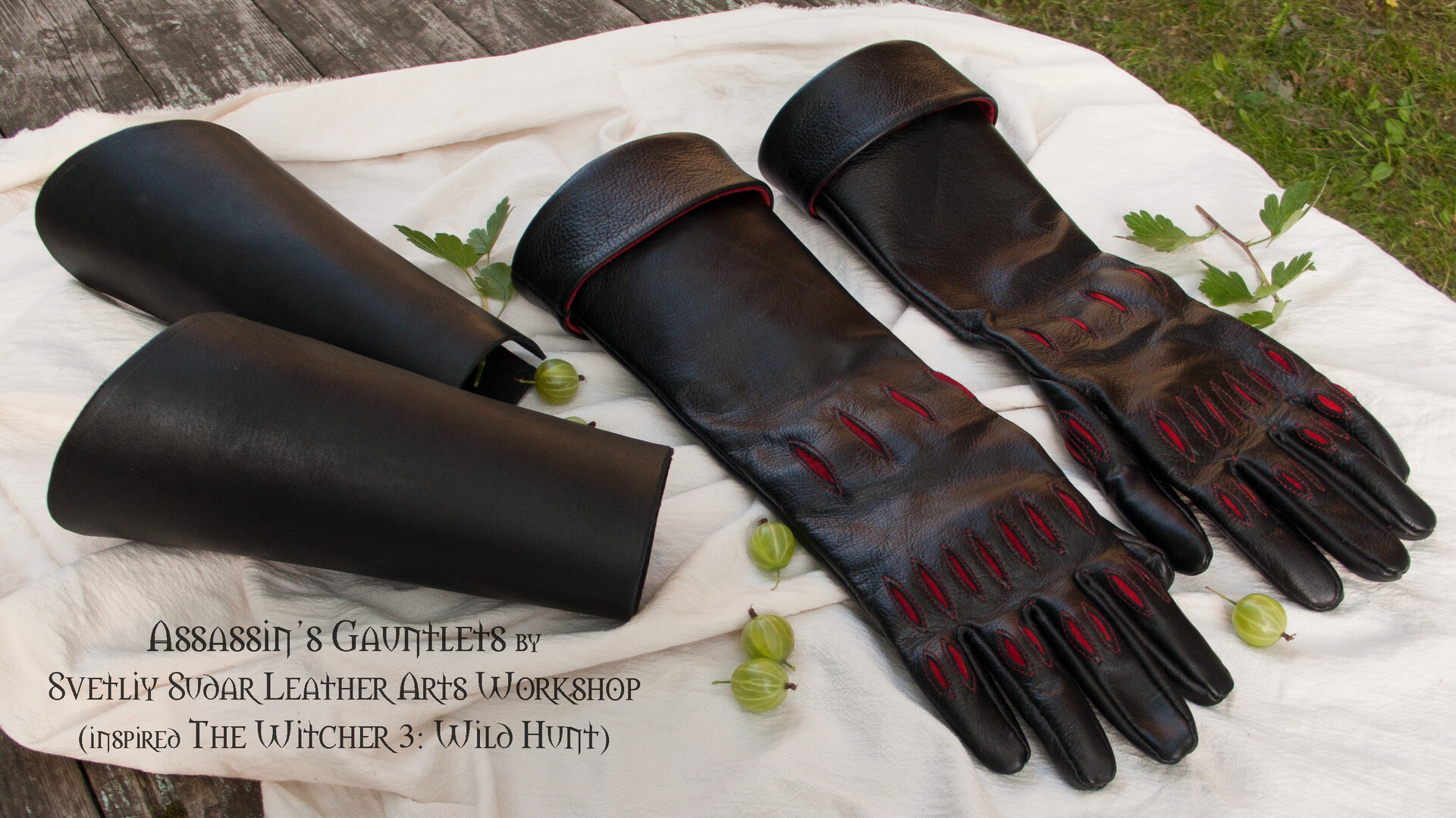 Temerian
A fantastic starter for new players, temerian is lightweight protection, moreover, a tribute to and a way to stand in solidarity with Vernon Roche, from The Witcher 2. 
You can even match this shield with your favourite horse as it comes with horse equipment. So, to find the blueprints for this one, head to Woesong Bridge in White Orchard. Then, buy the set from the merchant by the bridge.
Skellige
If the skellige archipelago left you speechless with its beautiful islands, terrifying monsters and deep-rooted culture, then this skellige set would make you appreciate it more.
Like the Nilfgaardian set, the Skellige collection boosts Geralt's defensive capabilities. Aside from cosplaying, this set will help amateur Witchers get the hang of combat during their lower levels. If anything, players should think of this as a training suit; helping you get your bearings straight early on.
Minimum weapon and shield levels in Witcher 3
Since each gear set has four variations, which range from basic to master crafted; The table shown below would give you the basic idea of which level should you first reach to claim these fantastic sets.
| | | | |
| --- | --- | --- | --- |
| Variation | Griffin School Armor | Feline School Armor | Ursine School Armor |
| Basic | 8 | 14 | 17 |
| Enhanced | 15 | 20 | 22 |
| Superior | 22 | 26 | 27 |
| Mastercrafted | 31 | 31 | 31 |
|   |   |   |   |
| Variation | Griffin School Swords | Feline School Swords | Ursine School Swords |
| Basic | 7 | 14 | 15 |
| Enhanced | 14 | 19 | 21 |
| Superior | 21 | 25 | 26 |
| Mastercrafted | 30 | 30 | 30 |
Conclusion
With this, we come to an end of our hunt for the Witcher 3 best armor sets. This would prepare you to battle those monsters and even get the hang of the game if you are a beginner. So, be the "knight in shining armor" and choose wisely!