Do you want to level the GMS reboot server in MapleStory more quickly than you usually can? If so, the maplestory leveling guide can help you in 2022.
It lays down the best maps where you can train, as well as the mobs you can hunt down at each range of levels.
Keep in mind that you can use this reboot leveling guide both for Reboot worlds and normal worlds. But you can't use a normal world training guide in MapleStory for a Reboot world.
Maplestory leveling guide 2022 prerequisites
Resources
In MapleStory, there are many resources that you can use to increase the amount of EXP you've earned so far in the game. Some of these resources are difficult to obtain, while others can't be acquired unless at least one of your characters has reached Level 100. Nonetheless, you'll need some resources to make the maplestory reboot leveling guide work better.
Runes:- After you reach level 30, runes will be generated on your map every 15 minutes or so. If you activate one of these runes, you'll get 2x EXP that'll last for only 2-3 minutes.
Hyper Teleport Rock:- You can buy this rock from the Cash Shop. If you want to use it for a day, you need to pay 5,200,000 Mesos. This rock helps you to switch training maps faster than usual, letting you teleport to any map you wish.
Burning Maps:- At levels 100 and above, your maps will gain the 'Burning Maps' effect. This means that every time you defeat monsters, the burning map will add extra EXP to those monsters. As you go on defeating them, the map's burning effect will start slowing down. In that case, you can switch to another map which has a high burning effect.
New Leaf City Potions:- These potions, including Wizard Elixir and Warrior Elixir, will last for 8 minutes each. You can buy each of them for 5,000 Mesos from Miki.
Monster Park Potions:- Monster Park Potions, including Extreme Red Potion, Extreme Gold Potion, Extreme Green Potion, and Extreme Blue Potion, will last for 30 minutes each. Only if you do the Daily Monster Park game, which is available at all levels above 100, can you get these potions?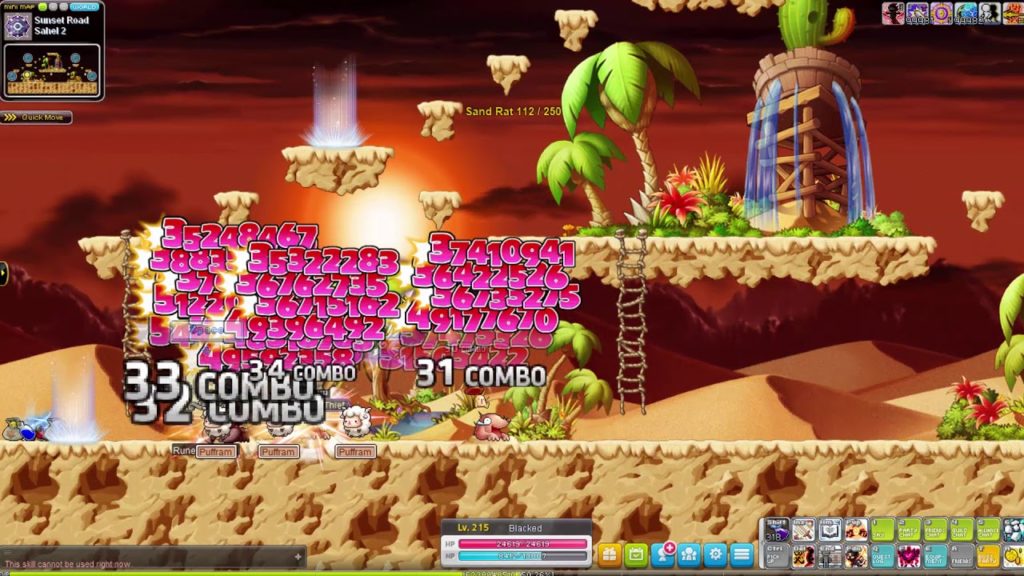 Experience
Throughout the time that you've spent playing this game, you must have picked up a lot of skills as well as experience coupons.
These will also help you in fulfilling the maplestory leveling guide.
Experience Coupons
Maple Legion Coupon (100% EXP)
Enjoyable Winter (50%)
Cash Shop 2x Coupon
Monster Park 1.5/ 2x Coupons (50%/ 100%)
 Skills and Consumables
Elven Blessing (10%/ 20%/ 50% EXP)
Holy Symbol/ Beast Tamer (30%/ 50% EXP)
Rune Persistance (30%/ 50%/ 70% increase in duration of 2x EXP of Rune)
EXP Accumulation Potion (10%)
Combo Kill Blessing (400%/ 650%/ 900% increase in EXP from Combo Orbs)
Maplestory training guide 2022
Most players can't wait to level up in MapleStory and unlock more Link Skills. If you're one of those players, then this reboot leveling guide is for you! The maplestory reboot leveling guide has been updated for 2022. With the best spots for training, you can hunt mobs and attain higher levels in the game in no time at all!
Levels 1-10: The Tutorial
Once the tutorial is completed, almost all the classes in the game automatically get their levels fixed at 10.
Levels 10-30: First Job Advancement
1.Maps:
Lvl 10-15: Henesys: Spore Hill
Lvl 15-23: Golem's Temple: Golem's Temple 3
Lvl 23-30: Henesys: Golem's Temple Entrance
2. Monsters
Lvl 10-22: Green Mushroom
Lvl 22-30: Curse Eye
Levels 30-60: Second Job Advancement
If you do any 2 or 3 of the following Theme Dungeons, you can quickly level up to 60 in MapleStory:-
Riena Strait
Elodin
Ellinel Fairy Academy
Gold Beach
On the left side of your screen, click on 'Quest Notifier' to start with these Themed Dungeons.
Maps
Lvl 30-40: Savage Terminal: Shaded Dump Site
Lvl 40-45: Gold Beach
Lvl 45-50: Ellinel Fairy Academy
Lvl 50-60: Burnt Land: Wild Boar Land
2. Monsters
Lvl 30-45: Violent Clam Slimes
Lvl 40-60: Wild Boar
Levels 60-100: Third Job Advancement
Maps
Lvl 60-70: Excavation Site: Military Camp 1
Lvl 70-75: Mushroom Castle
Lvl 75-82: Aqua Road: Red Coral Forest
Lvl 83-90: The Afterlands
Lvl 95-100: Ellin Forest
2. Monsters
Lvl 60-70: Copper Drake
Lvl 75-80: Luster Pixie
Lvl 85-100: Dark Sand Dwarf
Levels 100-140: Fourth Job Advancement
Maps
Lvl 100-106: Grand Anthaneum
Lvl 106-111: Leafre: West Leafre Forest
Lvl 110-122: Lion King's Castle
Lvl 122-126: Ludibrium: Toy Factory <Apparatus Room>
Lvl 126-130: Korean Folk Town: Black Mountain Entrance
Lvl 130-135: El Nath: The Cave of Trials III
Lvl 135-140: Crimsonheart Castle
2. Monsters
Lvl 100-105: Blood Harp
Lvl 105-120: Rash or Robo
Lvl 120-130: Moon Bunny or Thanatos
Lvl 135-140: Dual Ghost Pirate
Levels 140-200: Fourth Job Advancement (Hyper Skills)
Maps
Lvl 140-145: Korean Folk Town: Goblin House
Lvl 145-150: Minar Forest: Black Wyvern's Nest
Lvl 150-155: Kerning Tower
Lvl 155-165: Stone Colossus
Lvl 165-170: Kerning Tower: 3F Arts & Entertainment Shops 4
Lvl 170-175: Daily Boss
Lvl 175-180: Showa Town in Zipangu: Armory
Lvl 180-190: Fox Valley
2. Monsters
Lvl 140-145: Yellow King
Lvl 145-150: Gatekeeper
Lvl 150-160: Dark Wyvern
Lvl 160-175: Grape Jelly Juice or Blue Notebook
Lvl 170-185: Gray Luxury Saucer
Lvl 185-195: Foul Ooze Waste
Lvl 195-200: Chaseroid Red or Sinister Rocky Mask
Levels 200-275: Fifth Job Advancement
Maps
Lvl 190-200: Fox Valley
Lvl 200-211: Scrapyard: Scrapyard Hill 4
Lvl 212-225: Cave of Repose: Below the Cave
Lvl 230-250: Arcana: Deep in the Cavern
Lvl 250-255: Lachelein Tower
Lvl 260-275: Tenebris: Labyrinth of Suffering Interior 5
2. Monsters
Lvl 200-220: Soulful Erda or Tranquil Erda
Lvl 225-250: Birdshark or Ripe Wolfruit
Lvl 250-275: Forberion or Dark Construct