Sims 4 Explore Mod | Kawaiistacie – Download(2023)
The kawaiistacie(ks) explore mod in Sims 4 is a rabbit hole base game which enables your players to leave the group through this hole and have a look around other aspects like shopping, gambling, part-time, a hospital visit, grooming and many more!
And when these sims return, this mod even facilitates them with modified characteristics like buffs, increased motives, improved skills, and better relationships. This mod even adds other features too which could only be utilized by the players who have subscribed to a particular pack. Sims 4 explore mod
SIMS 4 Explore Mod – Working Of The Explore Mod
After you install this mod, you'll see a modified pie menu suggesting "explore" when you click on your sims. It would lead your player to all the places that are already mentioned in the menu even without your permission.If you want your sims to go for shopping, make sure it stays there for a while and comes out by itself. Some of the features might cost money but don't lose all your money in gambling.
Sims 4 travel mod
The travel mod present in the game enables you to move around with other sims by using the option "Explore with" mentioned in the pie menu. Before you could utilise this module, you should send your sims to the DMV or the transportation center for a bus pass or a license to experience the explore mod.
The new explore mod v5 has more upgrades like the outfits. Even places have official names and have open and close timings.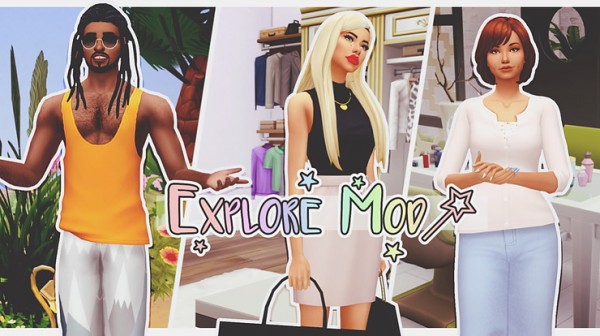 The Best Mods Of SIMS 4 EXPLORE
Gambling
Sims 4 Gambling mod introduces your sims to a new characteristic, i.e. gambler, as it also initiates your interaction with the card table.
Gambling at home:-
You get to chose your sims for gambling. It's more like a practice game session. You won't lose money when you play at home but you'll gain money if you win. It would only improve your skills as you won't earn as much as you earn at rabbit holes.
Gambling off lot (Rabbit holes) :
You get to choose your sims for gambling. It requires a lot of practice and luck to win the game as you will lose the money if you don't win but if you don't lose you could end up earning a huge amount.
Skills to improve
This mod will help you improve and better your skills in different facets like:
Cooking
Dancing
Photography
Yoga
Guitar
Gardening and many more!
Services
This mod would even help you provide with certain services which you might need like:
Hospital visiting
Get massages
Opt for various types of surgeries
Get your grooming done
Couples therapy.
One day vacation
This mod even enables you with one day vacation to the places given in the options below:
Jurassic Park
Disney World
Cruise
Beach
Entertainment
This mod has some exciting and entertaining activities to provide your sims in the game like:
Arcade
Comedy club
Fishing
Gym
Karaoke
Movie
Zoo
Playground
KAWAIISTACIE MODS
There are some more mods created by kawaiistacie to explore in Sims 4. They're as follows: kawaiistaciemods . Also check kawaiistacie preschool Mod
Drinkable pouches for humans: This option allows your characters to have drinkable pouches, which satiates their hunger and limits their bladder needs. Each pouch can contain up to 20 calories and you can store them in the inventory.
Tea lover: Just like us, Sims also crave tea; therefore, this mod serves this need of their by producing tea. It has a positive effect on their mood and increases their buffs.
Acne prone trait: We can't run away from acne breakouts even in virtual reality. So whenever there's a breakout, you'd see it on your character's skin. It'd also increase buffs.
Baller trait: Some personae have an interest in basketball, so this module would help them bring out their A-game by improving their skills. This game is a matter of status for them, so it'd boost their mood.
Singing trait: These characters are born with a nightingale's voice, so this mod enables them to inspire others with their singing. They are at their happiest while singing and might even wish to visit karaoke venues.
Appearance trait: This module comes in three types –
Handsome and Beautiful attribute – The ones with this trait are a treat for sore eyes. They are attractive, which makes it easier for them to create friendships and bonds with others.
Hideous trait – It's the complete opposite of the previous mod. These sims are ugly; therefore, they have a hard time forming friendships and connections. Plastic surgery is not an option.
Sims 4 explore mod v5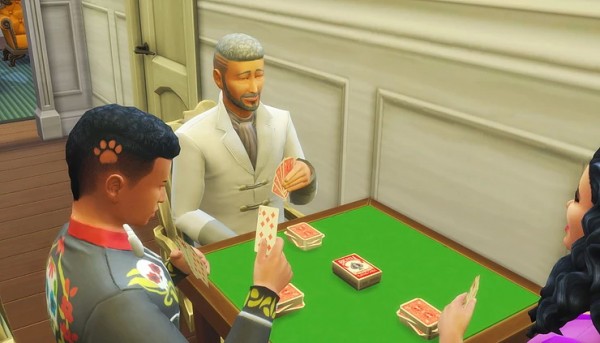 Faqs
Are mods allowed in Sims 4?
Mods are allowed in Sims 4 because the developers understand its significance in the game. As a result, you don't face difficulties while installing them. Only Maxis is an exception as it doesn't endorse, pre-screen or support any modifications.
What are the best mods for Sims 4?
Here is a list of the best mods of Sims 4.
• Emotional Inertia
• Private Practice
• MC Command Center
• Have Some Personality Please
• Meaningful Stories
• Life's Drama
Where do Sims 4 mods go?
Your installed mods go to the Mods folder that is usually present in the Documents > Electronic Arts > The Sims 4 > Mods. However, you might have stored them somewhere else as well.
How do I put CC in my PC Sims?
To put CC in your PC Sims, go to Documents > Electronic Arts > The Sims 4 > Mods and paste your .package file in it by clicking on an empty space. Once you start the game, these CCs or mods would be a part of the gameplay.
Can you Mod the Sims on PS4?
No, unfortunately you can't Mod the Sims on PS4 because it isn't compatible. Modding options are fairly less in consoles and not a lot of games allow you to make changes. Therefore, till the time the developers don't update this issue, nothing can be done.
How does explore mod work Sims 4?
Once you've installed the module, you'll notice an altered pie menu which contains options of places to explore. When you click on a sim, the "exploring" option pops up which lets you explore these places given in the menu.
What is explore mod?
Explore mod is a module which enables you to go to the DMV under the drivers license mod, indulge in gambling, or get your nails done. Your skills boost as you take part in these activities.
Rachel Kaser is an English major who has an unparalleled ability to transform words into poetry! He is also a big e-sports enthusiast and spends his evenings honing his gaming skills. He combines his passions for writing and gaming to provide us with the perfect amalgamated piece of literary work.