Best Sims 3 mods: Download (Updated) 2023
The article below suggests some of the best Sims 3 mods with their descriptions and links. Follow the report below to make The Sims 3 more interesting with these gameplay mods. 
As many of the gamers have now moved on, just like The Sims have over these years. Its 2023 and yet people have not stopped playing this game. Sims 4 is the highest-grossing version of the game, but many still miss its predecessor, The Sims 3. After all, Sims 3 offered some things, which none had ever provided before, which is the opportunity to walk through the game world without any loading screens and not to mention the must-have Sims 3 game mods.
Sims 3 had one of the best gameplay mods, which made the playing experience exciting and unforgettable like the vampire mods, graphic mods, family mods, and the Woohoo mod. Read the article further to know more about The Sims 3 best mods.
The Sims 3 top mods are aligned below in the form of a list. Refer to the pointers below to grasp the information better. Also, download the given link. 
The essential Sims 3 mods of 2023 are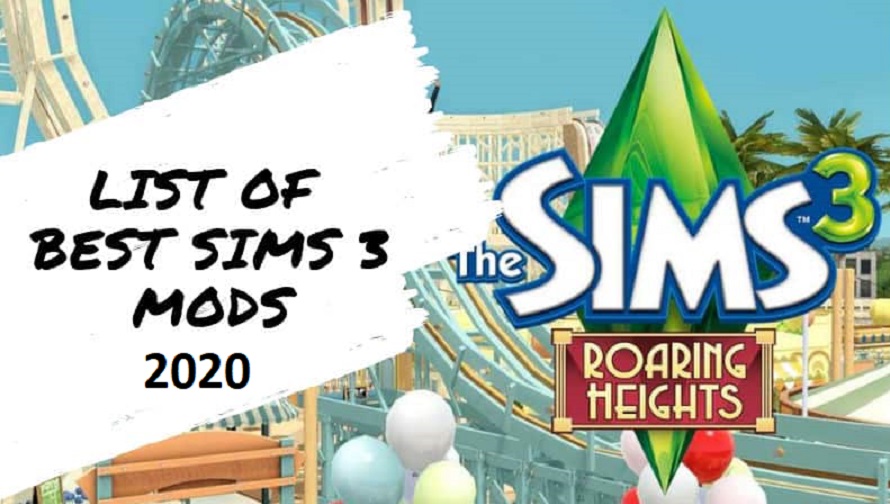 Here's a list of my Top 30+ Sims 3 Mod of 2023
Ultra-plain eyes
This modification shall turn your Sims eyes into natural-looking eyes by replacing the ones, which EA has used. There change is still noticeable.
Extreme plain faces
This act like an over-coat on the faces of your player's face, which makes it look more real and add real value to the game. 
Bay-window rowhouse
3-storied proportional bay windows on 20×30 sq area, which is many rooms on a small land. 
Pine-shade suburbs
Extensive gable-front house builds on a 40×30 sq area, which is lively and beautiful. 
Zebru's career mod
This modification in the game makes your sim go to a particular lot and makes them perform tasks related to their work.
Increased traits
This mod will help your player to have more traits as you age up, with or without your control. This will help you have a variety of personalities with the due course of time.
No intro videos
The intro videos in The Sims 3 might be very frustrating, while this modification shall cut these videos and make you jump straight towards the action.
Maria's dive bar
It is a small dive-bar with a stage and seating arrangements for the sims to throw a party and have drinks.
Rico
This is a one-storied house, styled like a farm with a huge entrance, four bedrooms, and many more.
Traveller mod
This can make your sim move from one place to another without deducting any progress you have made with your player at one place. Everything will be intact.
Tagger
It might be strangely difficult to find things, places, and people even when the map is loaded. This modification should allow you to tag things much better.
Delfino
A residential plot with everything you would always imagine to have.
Woohoo mod
The Sims 3 Woohoo mod can make your male and female teenage sims get pregnant.
The Sims 1 music
This might impress those who played the very first part of the game, as it could replace the background music songs of Sims 3 to The Sims.
Waste & snacks backyard
This is trolley restraint with five broken furniture spawners, one digger machine, bookcases and many more.
The loading screen
This updates the loading screen of the game, which adds many features like displaying all the expansion packs of the version to make it look much more interesting. 
A Salon
It is a little styling and tattoo salon made on 20×30 lot with different rooms for each. If you want something more detailed, go for the various hair mods available.
GPU support
This is something to look into as it turns around the GPUs of the game, which it sets to simplify the tasks
Northeney
Northeney is a place, which has cosy and warm houses with lighthouses and with this mod; you might live the rest of your life in this beautiful place.
River-view water treatment
A green-water river made for swimming, pool parties, and picnics.
Cronor
This is a dreadful and technological place, where there is nothing but technology and no beautiful sceneries. If you want to add one more place to your list; you must download this. 
Build and buy mode
This mod got made for making things better organized and so, with this you could browse the pages better and precisely, have improved prices for things.
Stewart's Antiques
This is an antique store on the highway made on 40×30 lot with décor items, which gives a vestige look.
Children Taking care of toddlers
The game doesn't allow your child sims to interact with toddlers, but with this modification, it could happen.
National-bloom park
This is a park made of children to play, house parties, and marriages. 
Children can work
Much like the previous one, this mod could make your children players work, without any unusual stretches. Naturally
Canning Station
This makes Grandma's canning station look more realistic by replacing the way items looked before.
Click Here For Canning Station
The returned attraction system
The attraction system that was in the game had some issues and bugs. This modification repairs those issues.
Click Here For Returned Attraction
Midnitetech's Career mods
There are many career mods in this version of the game, but there are still some career options that are not available in the list. This mod adds more career options to the game, making it expansive
Age progression
This would make this version more realistic as it allows your child and toddler players to grow as if they would in real life and not in a single day.
Click Here For Age progression
Sims 3 Kinky world
It is the successor of the Wicked Whims, which makes woohoo-ing more realistic as it adds some romantic encounters. 
Story progression
This very version of the game has weak story progression, and so, this mod would change how the characters interact and behave with each other.
Click Here For Story progression
Third-person mod
This would make you play the game through your sim's eyes and with a realistic way.
Click Here For Third Person Mod
The controller
This is a master controller, which would make your processes run smoothly and in a better way. It would handle the in-game variants better
Over-watch
As the gameplay moves forward, The Sims 3 very likely had bugs, which was frustrating enough. So, this is something that would help you fix issues in the long run. 
Rachel Kaser is an English major who has an unparalleled ability to transform words into poetry! He is also a big e-sports enthusiast and spends his evenings honing his gaming skills. He combines his passions for writing and gaming to provide us with the perfect amalgamated piece of literary work.