An anime girl with black hair is no less than the one with vibrant colored hair, and you'll see why because we have found the most beautiful anime girls with pure black locks and their looks range from killer to cute and you wouldn't want to miss that!
The most popular Anime girls with black hair
Kousaka Reina
From the anime hibike! Euphonium, our calm and composed trumpet player's dark wig, is the most exquisite ones on this list. Her soft fringes and flowy hair add charms to her cute face. However, she has always been an introvert and aloof person, but one cannot overlook the innocent expressions she gives.
Yaoyorozu Momo
Boku no Hero Academia gave us Yaoyorozu, the smart cookie who speaks eloquently, who sometimes misunderstands everyday things in life. While her hair doesn't seem like a rich woman, her outlandish style fits her sense of determination quite well.
Shinomiya Kaguya – anime girl with black hair and Red Eyes
From Kaguya-sama: Love Is War, Kaguya is a renowned member of the student council, and she has to dress up like a role model, and she is anything but a perfect girl. But what strikes the most when you look at her is her crimson red eyes and pitch-dark wig that can sway anybody.
Mayuri Shiina – Short black hair Anime Girl
With jet black locks and ocean blue eyes, Shiina is a mesmerizing black-haired anime girl. She carries an innocent charm with her wherever she goes. To recreate her look, all you need are side-swept bangs and shoulder-length hair, and you are good to go!
Mio Akiyama
Mio has a charming demeanor, with her guitar always around and her puppy expressions, she could make you go head over heels. Her hairstyle is quite sober with jet-black, waist-length hair, and long bangs; it is easy to recreate.
Yukinoshita Yukino
Oregairu's highlight is Yukinon's black locks , which is also her defining visual quality and the stern expression that usually tags along with it. Still, She's incredibly radical and logical, to the point of being a savage and insulting people like a pro.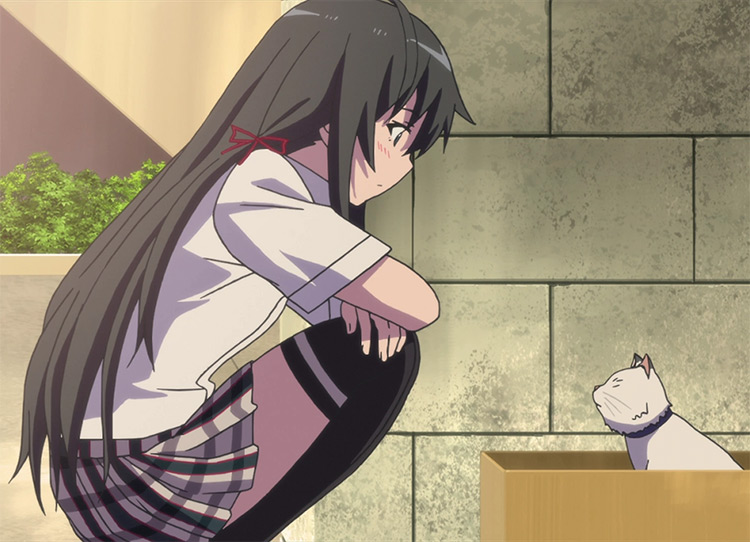 Homura Akemi- anime female Black hair Beauty
A girl with dark hair and purple eyes is the beautiful Homura Akemi. Her waist-length hair is bouncy and voluminous, for all her forms – school girl, magic girl, and demon. Early in the timeline, she used to wear red glasses that gave her a vintage geek look.
Nana Osaki – the black hair anime girl
The super cool and pretty Nana is the type of girl you'll love to hang out with. Her gothic outfit, short black hair, piercings, and tattoos make her rebellious outlook. She is The kind of person who does what she wants, whenever she wants but is also a very compassionate lover and friend.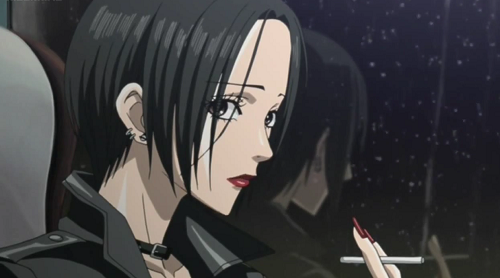 Homura Akemi
From Mahou Shoujo Madoka★Magica, Homura has really long black hair with front bangs. It's quite hard to describe Homura-chan because she has changed a lot throughout the series. She's her best friend. She will remain loyal and will do anything if it's better for her friend Madoka.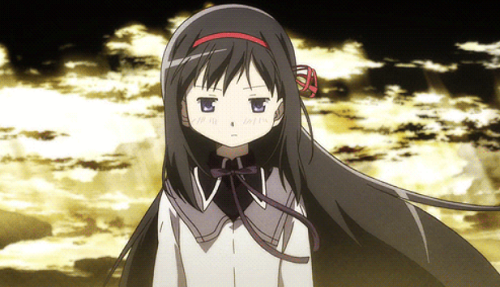 Chitanda Eru
From Hyouka, the highly -inquisitive and passionately curious Eru is something of a low effort and low-energy pursuits of our talented Oreki Houtarou. She looks fantastic in her long ponytail and fringes, which are supported by her shining & gleaming eyes.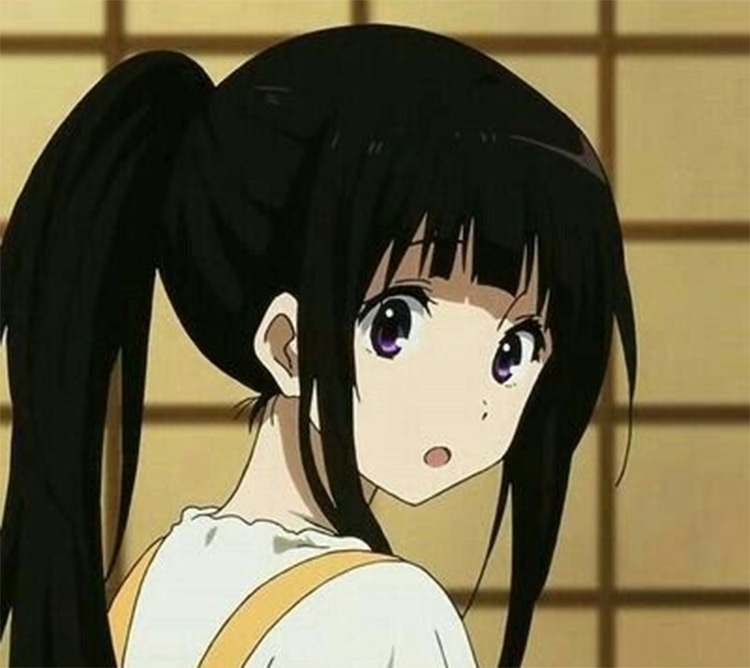 Ruri Gokou
Ruri (also known as Kuroneko) hides her cute side with a cold personality. She looks like an overconfident snob at first, but once you get to know her, you realize she's just socially insecure, and that's what makes her adorable at heart.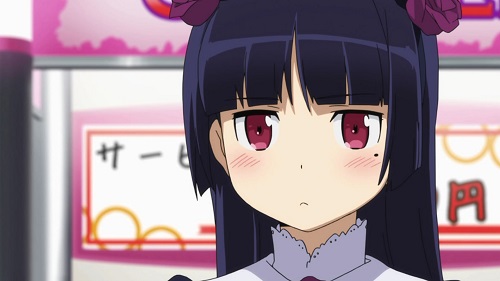 Akame
Akame ga kill introduced us to this straight-forward girl, equipped with the One-Cut Killer Murasame, you won't stand a chance against her. This is a girl you would love to have on your side. Also, she loves food and is always hungry.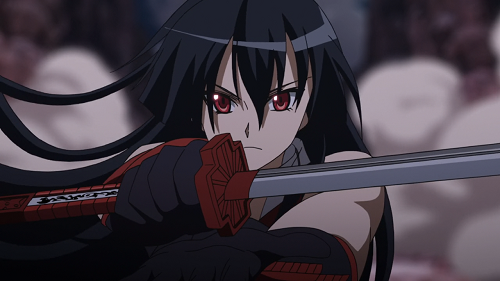 Sakurajima Mai
Aoubuta gal is absolutely gorgeous, witty, make practical decisions, and has the potential of being an amazing girlfriend. Her excellent understanding regarding Sakuta's quest also adds to her sublime "waifu" status, and when things start happening in Shouko's way, she gets upset like a little baby that makes her look cuter.
Hishiro Chizuru
From ReLIFE, Hishiro is characterized by her medium cut black locks and sea-green eyes, with her maiden outfit. At first, she seems aloof, but you have to break her shell to see the real version of her.
Nodoka Manabe
From K-ON! with dark hair and glasses, we have our sweet Nodoka. She has a layered wig, and her spectacles are half framed in a square red color. She loves to wear a kimono and is a well-mannered and intelligent girl.
Sango
A villager and from youkai slayers' blood-line, Sango was trained in the art of slaying enemies since her childhood. When she is not in a fight, her gorgeous pitch-black hair is complemented by a standard kimono. Her locks are arranged into a ponytail when she fights, which gives her that iconic warrior-look every time.
Mayoi hachikoji
Long black mane and red eyes, Mayoi is cheerful, energetic, and curious. She is the ghost of an elementary school girl; hence she has her hair in two pigtails. She also has short layered fringes and a white band.
Tousaka Rin
She is an Eastern magus, but her family specializes in Western magic. She's assertive, and when logical, she's intimidating. Ability-wise she has many technical limitations, but she's also creative enough to find solutions in challenging scenarios, and her blue eyes and wavy dark hair really set her apart from the crowd.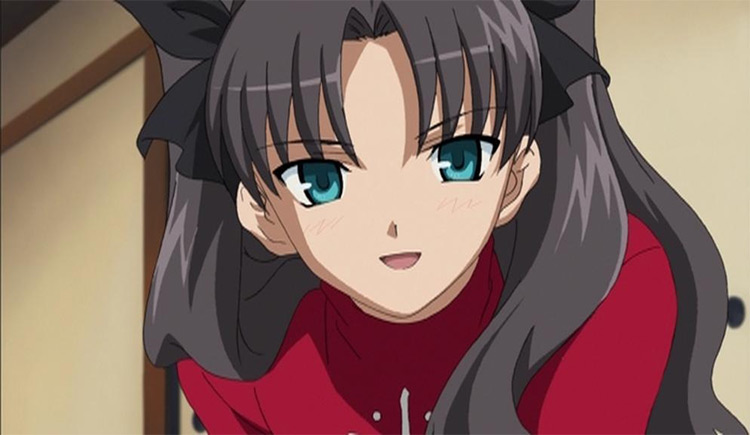 Izumi Curtis
The damsel with black dreads is Izumi Curtis. She has prominent features and tends to wear her dreadlocks tied in a ponytail. Also, you can often see a few locks on her forehead. Skilled in martial arts, she is a woman with immense power.
Hanekawa Tsubasa
From Monogatari, "Araragi-Kun" described Hanekawa as the "class representative of all class representatives," He was totally right. With critical thinking skills and sensibility, she is actually a role model. When coupled with glasses, her jet-black hair completes the image of that nerdy library/bibliophile type.
Conclusion
A stereotypical anime girl with black hair always steals the show for us; with a fair Japanese skin tone and dark locks, nobody can escape their charm. Feel free to recreate these looks and bring out your inner anime girl!